BASECAMP
Bar, Kitchen, Café, Shop and Information Centre open to all, whether you are staying on site or just a popping by.  Opening times and menu may vary during quieter times, please check with reception.  BASECAMP offers cakes and scones, full English breakfast, light lunches, gourmet burgers, speciality pizzas, fish and chips and Sunday roasts.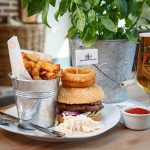 We invite you to book a table or pre-order takeaway food for collection, you can do this in advance. To book a table or pre-order food to takeaway please call 01493 367807.
The small off-licence shop offers freshly baked pastries and breads (pre-order required), fresh produce, groceries, newspapers, camping equipment, local crafts, luxury ice cream and a few other essentials.
Close by is our mini golf course and cycle hire centre, home to a large selection of bike options for all ages including tag-alongs and pet trailer.
Smoking, including the use of e-cigarettes is forbidden within BASECAMP grounds; garden, patio, decked area and the golf course.  Smoking is allowed in the front garden area and outside of the fence where you will find ash disposal bins.
Dogs; with the exception of aid dogs, are not permitted inside. However, they are welcome in the garden, on the patio and decked area where you can enjoy al-fresco dining – under cover in our heated seating area.
BREAKFAST MENU   LUNCH MENU   PIZZA MENU
EVENING MENU 1   EVENING MENU 2   LITTLE CAMPERS MENU
BREAD ORDER FORM